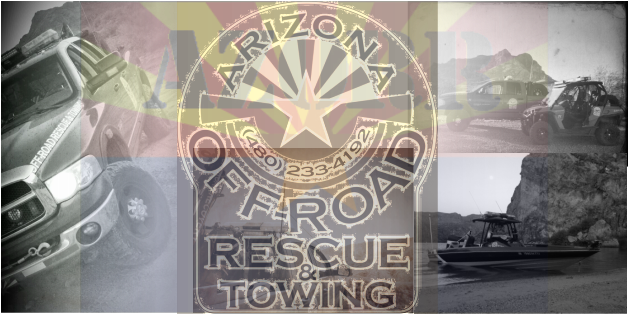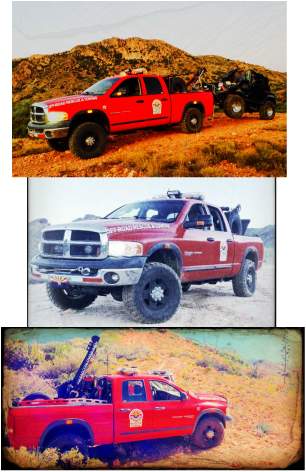 Arizona Off Road Rescue 2005 Dodge Ram Power Wagon
- 5.7l HEMI
- Front winch- Warn M12000 w/ wireless controls
- Rear winch- Warn M15000
(54,000lbs of pulling force with snatch blocks)
- 4x4, front/rear lockers, electronic swaybar disconnect, all rigging strapping, on-board air, 4.56 gearing, 35" Good year Wrangler MT/Rs, more recovery tackle than an off road store!!
Custom Wrecker Boom With Sling
- AZORR incorporates an M15000 15k Warn winch (removable, portable) into our custom wrecker boom. We are also equipped with a heavy-duty towing sling, which allows us to provide safe, off-road towing services, over flat towing with a tow strap. We provide the capability of lifting entire UTVs, ATVs, and motorcycles, over dragging in trailers. Our boom allows us to utilize two winch cables to the forward position, improving long line pull times, and saving money by only having one truck on scene. Extensive on-trail repairs are no longer necessary (except to make towable), while we can tow and transport your equipment to the proper facility for repairs.


---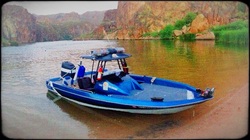 20' COBRA Recovery Vessel
-AZORRs Newest addition to the recovery fleet. 150HP Force outboard, 2500lb bow mounted winch, rear tow tower, rigging, lighting, and communications to ensure your watercraft is handled in a safe manner. When we are on a scheduled lake day, you can always reach us on marine channel 16 as we will monitor this distress channel when on the water.
---